With spring coming, a common question we get at Tedot's Finest is "Hey Tedot, when is a good time for me to open my sprinkler system?" This answer generally varies depending on a person's goals, so we thought it would be a good idea to put something together to help those of you that wanted to understand the thought process.
Sources suggest opening your irrigation system early spring, but what does that really mean?
Let's talk about spring, the season where days start getting longer, the temperature is warmer and our winter coats are a thing of the past – for the time being. The first day of spring in the northern hemisphere is the day of the year when the sun crosses the celestial equator moving northward on a day known as the Vertical Equinox. That day is usually around March 20, the first day of spring. Let's talk about what early spring means to us. Early spring signals the best time to start outdoor activities such as cleaning and preparing for lawn renovations. All of this may sound nice, but it really doesn't give us an answer we should be happy with. Early spring doesn't give us enough information to why and when we should really be opening our sprinkler systems in the GTA. We would like to try to better equip you with the information to help Toronto residents determine when to open their sprinkler systems.
If a single answer is required for when to open your sprinkler system, it would be when there is no risk of frost
As your sprinkler system can be damaged by freezing water in the underground lines, irrigation valves, sprinkler heads and drip lines, we need to ensure we avoid freezing temperatures.  Damage to your sprinkler system can lead to frustration as troubleshooting pipes underground isn't an easy task, especially if that means digging up your precious lawn.  It could also become costly as leaks may not be found in a timely manner, leading to more damage and water loss.  It is essential to shoot for a time where there is no risk of frost, and I think we can all agree that March 20 is too early in the GTA to ensure that there is no frost. This would also hold true for opening your sprinkler system for early spring.  Knowing this important core concept of avoiding frost, what does that mean for those of us in or near Toronto? 
For sprinkler systems in the Greater Toronto Area (GTA), the average date for last frost is between April 11 and May 20
This means GTA residents can expect to open their sprinkler system anytime from April 11 and May 20.  These dates will be similar for those in the colder climates with cool season grass.  We often hear the safe recommendation of waiting until the Victoria Day, May 24 weekend (informally considered beginning of summer in Canada) to open, which aligns with the average date above.  The issue with this strategy is that we completely ignored all of spring, which is an important time for prepping your lawn for the heat of summer.  For the year of 2022 specifically, trends indicate that the last frost should be May 4, 2022.  Okay, now that we know all of this, we can just open after the last day of frost right?  Not quite, let's introduce the next concept.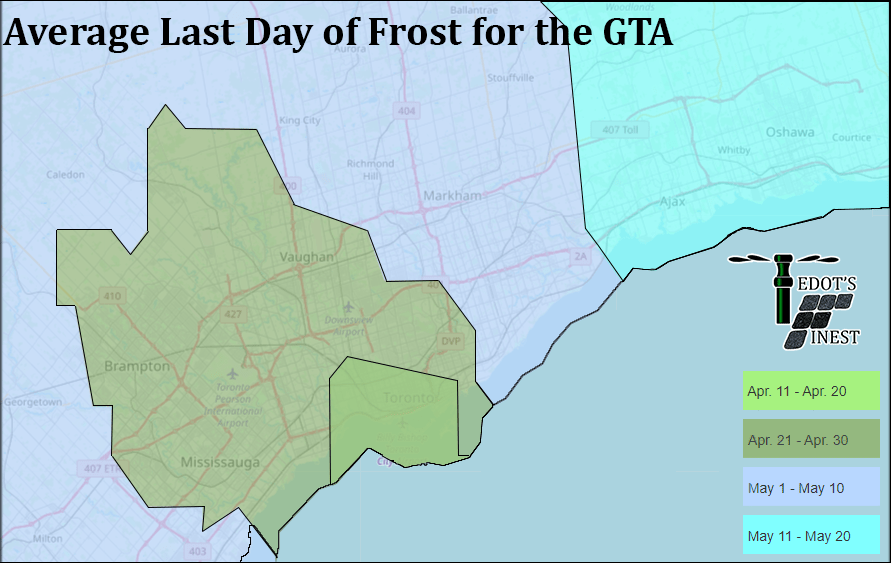 A few days of frost after a period of warm weather will not hurt your sprinkler system
Properly installed sprinkler systems are below the ground and because soil is a good insulator, the temperatures below the ground and air temperatures will not be the same.  Please do not take this sentence as Tedot saying it's perfectly fine and fully protected!  There is always a risk of damage during frost, which is why some contractors will not take the risk and simplify the answer.  Unfortunately some contractors unknowingly put your irrigation system at risk by saying its ok (which in most cases it will be), but the question is, will they back up their advice?  There are safe techniques to open your sprinkler system early so you can take advantage of spring time, giving you more time to get your lawn ready.
Are there benefits of opening my sprinkler system early in Toronto?
This conversation is not so straight-forward and depends on your goals with your plants, grass and upcoming renovation plans.  For example, if you are planning lawn, landscaping or hardscaping renovations (rocks, patio, pavers, interlock), timing is critical, and sprinkler companies are generally very busy in May with service calls, new installs and openings.  Spring openings are an important time for inspection, lack of thoroughness may lead to damage and financial loss.  We're not advocating that all companies do this, but the reality is that when tight on time, thoroughness may be neglected, so you might want to open earlier (and have a plan with your irrigation partner if the weather is colder than expected).  This requires a knowledgeable irrigation partner that understands not only the technical aspects of sprinkler systems and the biological nuances of plants, but one that can see the big picture and can communicate all these aspects with you.
It is important to partner with a knowledgeable sprinkler company to open and maintain your irrigation system
Some companies can put your sprinkler system at risk with vague answers. There is a chance they may have lack of knowledge about proper and effective techniques and instead, default to speaking in generalities about your lawn or sprinkler system needs. It is important to find a professional sprinkler company to support you with honest, trustworthy and knowledgeable lawn opening and closing advice. They should make your success into their success and you'll be able to get a feel of that through their customer testimonials and your gut feeling. Most importantly, you should have a good talk with them before you hire them, to ensure that YOU feel comfortable with them and feel that you are able to get value with the partnership.
Why is Tedot's Finest Landscaping and Sprinklers a popular choice for sprinkler openings and installations in the GTA?
At Tedot's Finest, our knowledge, expertise and ongoing collaboration with our clients puts us ahead of the competition. Partnering with Tedot's Finest early provides you with peace of mind because we have time to proactively plan your lawn and garden requirements to maximize success. Early openings with our knowledgeable and caring team means even more time for our personalized attention. Call us today to discuss your unique needs and let us help you open!
About Tedot's Finest Landscaping & Sprinklers
Tedot's Finest Landscaping and Sprinklers provides complete sprinkler and irrigation design, installation and maintenance services in the Greater Toronto Area. Our commitment to your lawn goals combined with our knowledge, quality service, integrity and professionalism makes us your go-to partner for lawn and garden irrigation services in the Greater Toronto Area (Toronto, Scarborough, Richmond Hill, Markham, Pickering, Ajax, Whitby and Oshawa). Contact us to experience our expertise and passion in all aspects of the project from grass and soil to automation and efficiency.